What are Challenge Coins Used For?
The challenge coin offers a popular means of boosting morale within your organization along with advertising the services your company offers. Starting in the early part of the 20th century, challenge coins became a popular way to express recognition of organizational members. Today, they have expanded their function to include marketing and advertising businesses, products, services, and events.
What follows are the three of the basic ways that challenge coins are used. This is by no means a complete list, but it does provide enough information to consider using challenge coins for your company or organization.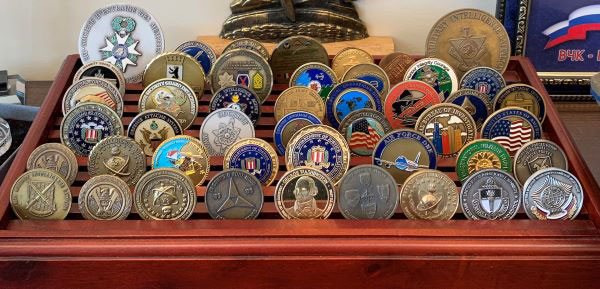 Organizational Identification & Reward
Challenge coins are most often used by the military, law enforcement, and other government organizations such as fire departments and the like. They serve two purposes within the organizations, a means of group identification and reward for services that go above and beyond expectations. First, challenge coins are often distributed to those who have completed training and become a full member of the organization.
Second, for individuals who completed certain tasks, showed bravery under trying conditions, or performed an act of heroism a challenge coin may be issued as recognition of their accomplishment. This is how challenge coins were most often used in the past. Plus, challenge coins can be made for a special event in which the members or employees participate and pass.
Advertising Businesses
A challenge coin is an excellent way to advertise the services of your business. They can be handed out to those who purchase from your company or to help promote the products or services that you offer to the community. At public events, challenge coins are highly popular as they are distributed by companies looking to boost their business brand.
Plus, challenge coins can apply to most, if not all types of businesses. Offering a means by which companies can break into the market and build customer loyalty. For many, challenge coins represent pride in the company or organization while still promoting the ideas, values, and services that it offers.
Promoting Events
From public events to private ones, challenge coins not only help in marketing, but also serve as a memento to the occasion. They can be handed out to those who are part of the wedding, such as the bridesmaids or groomsmen. Challenge coins are also perfect for those who attend training seminars as recognition of completing courses or tasks.
Of course, challenge coins can also be used for both promotion and recognition depending on the circumstances. Plus, it is common for a company or organization to have different types of challenge coins depending on the circumstances. From attending events to promoting new ideas to recognizing a particular achievement, challenge coins are quite versatile and effective in their uses.
The uses for challenge coins are considerable thanks to their instant recognition, inherent value as a coin, and longevity which means that they will be around for long time. Challenge coins offer a simple, direct way of promotion and recognition that will be appreciated by those who receive them.
---