Since ancient times, military art has signified strength, victory, and honor. All throughout history and since the founding of the United States of America, military art has played a significant role.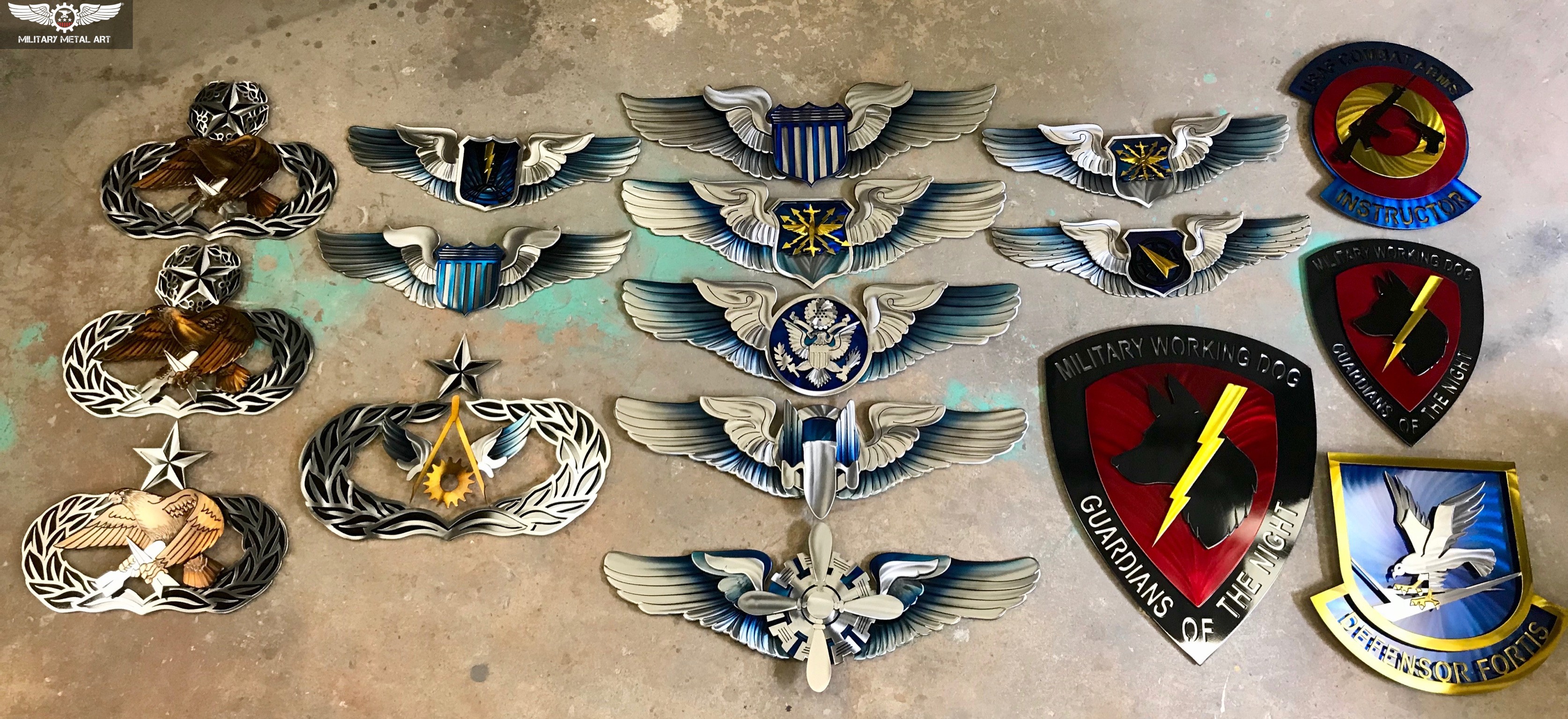 Who could forget the iconic scene by Emanuel Leutze, George Washington Crossing the Delaware (1851)? The proud painting depicts Washington's profile facing west, with one leg propped at the head of his small boat, one man holding the flag behind him, while the rest of his men paddle fiercely through the icy Delaware River to the shore beyond the left of the painting. 
Or how about the striking image by Joe Rosenthal, Raising the Flag on Iwo Jima (1945)? The picture of six strong Marines raising the American Flag atop the Japanese mountain, Mount Suribachi, is forever ingrained in the minds of many. It solemnly symbolizes American fortitude and our steadfast victory in battles throughout history. 
Military art represents more than a mere image. There is a deep feeling of dignity and respect that accompanies it, along with a significant earned value that comes from honoring the sacrifice of many great men and women who have shaped our history. 
Military Metal Art Pieces
Military metal art is a modern way to showcase patriotism, pride, and remembrance. 
High-quality metal pieces handcrafted in the USA and laser-cut into numerous designs are a remarkable way to showcase military art. 
There are numerous military metal art designs that will look exceptional while hung on your walls. Signs or plaques that are handcrafted and laser-cut into flags, planes, badges, symbols, patches and more are an ideal addition to any indoor or outdoor setting. 
Military metal art also makes for an excellent gift on special occasions. They make a superb and unique gift to commemorate a loved one or someone you know who has served. With a flag or a metal badge plaque, Veterans Day, Father's Day, birthdays, and military retirement ceremonies can be made more memorable. 
Air Force Metal Art
"Aim High ... Fly-Fight-Win"
Several Air Force metal art designs are beautifully crafted that can honor enlisted or retired airmen and officers. 
Designs range from any classification of personnel within the Air Force. For example, badges of enlisted stripes, occupational badges, security forces, pilot wings, and squadron, wing, or unit patches, can be made into ornate metal art designs to honor those who are or have been in the Air Force. 
Further available are carefully crafted outlines or 3D metal depictions of aircraft, such as the A-10 Thunderbolt II or Warthog, B-2 Spirit or Stealth Bomber, F-35 Lightning II, F-22 Raptor, F-15 Eagle, or F-16 Fighting Falcon. 
Challenge Coin Nation: Military Metal Art
Challenge Coin Nation offers a wide range of military metal art that is built to stand the test of time. The high-quality, made in the USA metal art designed by expert craftsmen is available now to make for the perfect gift recognizing honor, patriotism, and sacrifice. 
To check out the current stock of military metal art and to stay up to date on new product offerings, please click here. 
---