Croc Charms are shoe decorations, fun little images, letters, sayings, bits of pop culture, numbers, characters or other types of charms set up on a post to thrust into the holes of your Crocs Classics. Each Crocs Classic has 13 holes on them, so you can pop up to 26 Croc Charms at once or come up with other creative ideas on how to wear them.
They are made form Zinc alloy, non leaded, Nickel Free and metallic materials that can be customized, thereby making your time styling fun. These characters are also great for teams. You can customize your Crocs with style or give them as gifts to ladies, men or teens.
Croc Charms are not toys as they are not meant for children below 3 years of age. They are efficient for Croc decoration, gorgeous, have amazing quality, distinctiveness, provide excellent ease, work ideally in a trio and make shoes distinct & fashionable.
Companies that sell Croc Charms offer fast shipping, prompt delivery, top quality easy and swift response to inquiries, excellent customer support service and great quality products.
You can get Croc Charms of any design from stores online (Amazon or Walmart) for as little as $4, that can be bought at once or added to Cart. There are no return policies or exchange on this product.
By putting a personal touch on your best-loved pair of Crocs such as adding characters like Minnie Mouse™, Finding Dory™ or Minions™, you make them better.
Features
Croc Charms can also be made from Zinc alloy materials that will fit snugly into the holes of a Croc. By fitting into your Crocs, they make for remarkable designs and a gorgeous look. 
Presence of a Silver Color
AAA + Rhinestones
They are made from Non leaded and Nickel free materials
These decorations are composed of Lead free and Nickel free materials.
Top quality glossy and plating
How was Croc Charms Invented?
It all started in 2005 when Sheri Schmelzer decided to use clay and rhinestones to create charms that will fit easily into the holes of the 10 pairs of Crocs her family owned. These Charms could be anything from flowers to letters, peace signs, numbers and many more. When her husband, Rich Schmelzer got back home, he spotted the potential. At this time, Sheri was a stay at-home-mom.
In weeks time, they put together a website to sell these charms. At the end of the summer, both partners were financed on home equity.
As the company continued to witness more demands for their product, they began expanding their reach and number of stores from 300 to about 3000, thereafter pulling in enormous profits at the end of each year, reaching as high as $2.2 million. The couple outsourced manufacturing activities to Asia and then moved up to a 1114.836 square metres office space and warehouse in Boulder.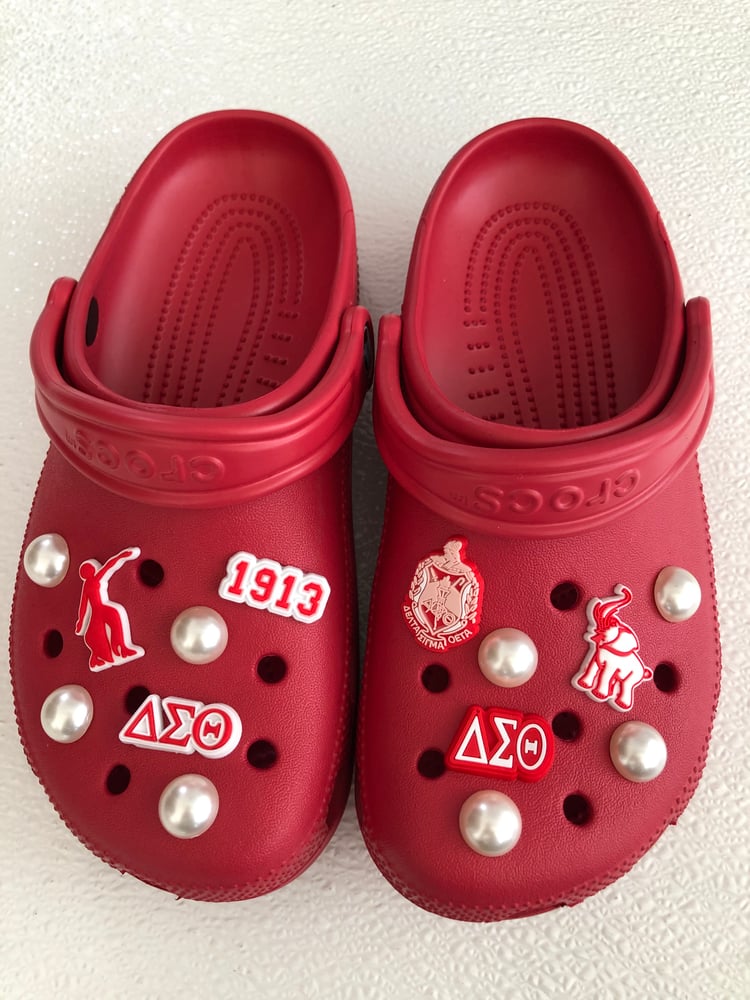 They both agreed down the line to sell the company to Crocs for a whooping $10 million sum. Sheri Schmelzer says she still can't believe her luck.
---