What you need to know about Vision Strike Coins
Vision Strike Coins is a company that designs some of the highest-quality challenge coins in the industry for all branches of the military service. The company takes pride in producing the finest coins for all military members and Veterans. Better yet, the products are designed right here in America! There is nothing better than a home-grown product to honor the people that make our safety and existence possible. The goal of Visions Strike Coins is to create best-in-class challenge coins that honor the dedication and sacrifices of current or retired military members by packaging up traditions and history into artfully crafted challenge coins. The coin designs span all branches of the service, including Army, Navy, Coast Guard, Air Force, Marine Corps and more.
Vision Strike Coins designs and produces challenge coins that are either pre-designed or custom-made. The Portland-based company also sells t-shirts through an affiliate brand called Military Outfitters, which is owned and operated by a Marine Veteran. The t-shirts feature clever and popular military phrases, and the proceeds support military Veterans.
Fundraising committees, squadrons, hospitals, and military-related activities have consistently turned to Vision Strike Coins on birthdays, anniversaries, military balls, and more to make those moments even more special with beautifully crafted or custom-designed challenge coins. Products are so popular that they are even sold at major retailers like Amazon. You can even join the Challenge Coin Newsletter to receive 10 percent off and to get exclusive military coin designs and coupons.
Visions Strike Coins' assortment includes an array of coins with unique artwork and precise detail. For those of you who are less familiar with challenge coins, its history is debated and challenged (see: Everything You Ever Wanted to Know About Challenge Coins), but the one thing that certainly remains true is that they are emblems of military pride and honor. They can be given as a token of appreciation or a way to remember and reflect on special, defining moments.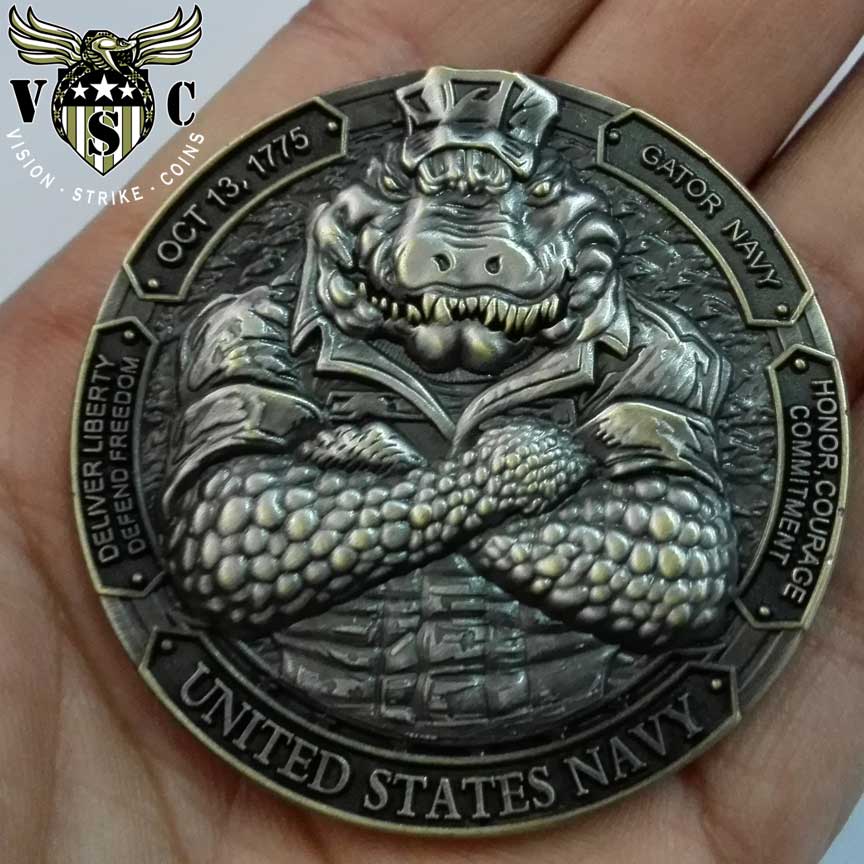 The scale and variety of military challenge coins has taken off over the years, and Vision Strike Coins is a good representation of the momentum the coins have gained, with a website featuring a plethora of different coin designs. What it offers outside of challenge coins, though, is a community and a place to help heal our Veterans. The organization is linked up with other military companies and causes and has a robust social media community to honor active-duty members and retired military veterans. Like many military-focused organizations, the community that Vision Strike Coins has created is a safe space for these men and women to feel truly at home and surrounded by people with similar memories, circumstances, or even struggles. This rings true in Vision Strike Coins' Code of Conduct: "Your Vision Strike Coins are covered for life." It's a simple gesture, but one that carries substantial value.  
---